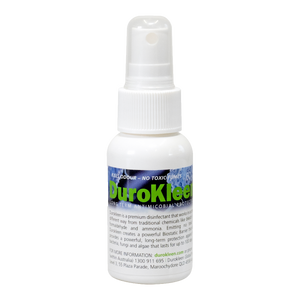 Introducing our travel size and extremely handy DuroKleen Travel Companion. 

Utilising our original, DuroKleen Long-Term Antimicrobial Surface Sanitiser to provide a long-lasting, invisible biostatic barrier that prevents the growth of moulds, mildew, fungus, algae, and bacteria. 

With a Travel Companion, you can now use DuroKleen wherever you go! 

Great for use on those surfaces you don't particularly trust: handles, arm rests, tray tables, toilet seats, phones - the list goes on. For safety and piece of mind wherever you go.

60mL PET plastic bottle with spray/mist nozzle and protective PET cap. 

More than 200 sprays per bottle.