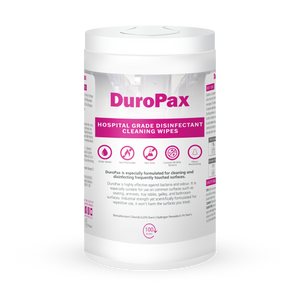 DuroPax is a two in one cleaner and hospital grade antimicrobial disinfectant, especially formulated for cleaning, disinfecting and protecting frequently touched surfaces. 

DuroPax is registered on the ARTG (#373491) as effective against SARS-COV-2 (causing COVID-19), bacteria and mould.  Wiped onto any hard surface, DuroPax provides a rapid, two-part solution.
First, DuroPax's cleaner enables dirt, grease and grime to be easily wiped away. Then, as DuroPax dries, the disinfectant actively eliminates SARS-COV-2 (causing COVID-19), bacteria, mould and odour from the surface.

Australian Made in a GMP and TGA certified facility, DuroPax is non-toxic, emitting no harmful VOC's, non-flammable, non-corrosive.
DuroPax creates a safer environment in your workplace, whether you work in an office, food production, childcare, school, an aircraft or a motor vehicle.   
DuroPax Wipes feature large, premium quality fabric sheets measuring 180mm x 230mm and a recyclable heavy duty HDPE cannister that is made using 70 percent recycled plastic.
PREPARING TO USE:
Each cannister comes with a moisture and bacteria lock seal which must be removed prior to use.
Open the lid enclose by lifting the tab
Pull the tab in order to lift of the lid
Remove the seal
Thread the center most wipe through the open lid opening
Place the lid on the cannister firmly enclosing the wipes
Lift/close the tab as per use

HOW TO USE:

Begin by inspecting, tidying and vacuuming the space to be treated. Deal separately with obvious trouble spots such as spills and marks.

Wipe the area to be cleaned, ensuring that enough product is applied to lightly cover the entire surface.
Allow to dry for 10 minutes.
For food preparation areas, rinse with water prior to use. 

Tip: When pulling the wipe from the container through the lid, aim to have the wipe pull through one of the 4 line openings on approximately a 45 degree angle for a quality tear. 
CAUTION
Safe to apply to the variety of surfaces found in commercial transport including food preparation areas. Surface disinfectant only - not to be used on skin. Avoid contact with eyes; may cause moderate eye irritation. Wash hands and exposed skin with soap and water after handling and before eating. Do not use on medical devices or other therapeutic goods.